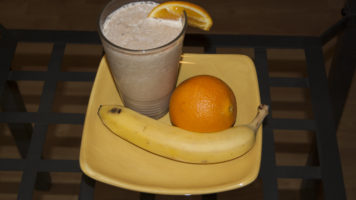 This will satisfy your chocolate ice cream jones!
This chocolate- Orange shake is full of healthy ingredients and tastes fantastic!
If you crave a treat that's cold, chocolate and yummy delicious this Summer, then this shake is for you. The shake is full of healthy nutrients and fats that by the way, won't make you fat.
1 Banana and 1 Orange both frozen
2 Tablespoons Almond Butter
1 Tablespoons Honey
You can use a little more honey if you need.
1 Cup Organic Milk (don't substitute milk that is not organic, it is so unhealthy), instead substitute unsweetened Coconut or Almond Milk. Go easy with the milk at first, it's easier to add more if you need, but hard to take a way. No one likes a thin milkshake.
1 to 2 Tablespoons Cacao Powder or 7 Cacao Beans right into your blender.
About 7 ice cubes and blend away.
Blend longer if you don't have a high-end blender, but my Vitamix (vitamix.com) gets it done in 30 seconds.
Serves two.
Enjoy!