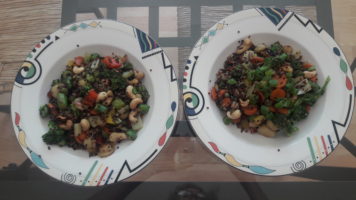 My Favorite Stir fry
What's great about a stir fry is you can make it your own by adding in all your favorite vegetables.
We start with some ginger and olive oil, add in our favorite vegetables, throw in seeds, nuts and Bragg's Amino Acids, (which tastes like soy sauce) and stir fry to our desired texture. Then toss in some cilantro and mix with some rainbow quinoa, top with lemon juice and you have a lite summer stir fry.
Our favorite Vegetable Mix includes: Carrot, Celery, Zucchini, Broccoli, Green Beans, Asparagus, Yellow Bell Pepper, Red Bell Pepper and Green Onion.
I always cut enough vegetables and quinoa for two meals, so I have a healthy fast food for the next day; all that's left is to stir fry. 
Dr Jamie DC Clinical Nutritionist