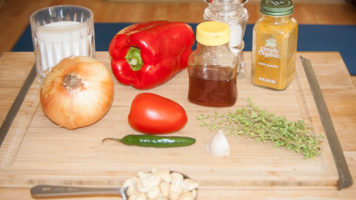 This curry chicken is a favorite. We originally used another curry recipe and then added a few things, like coconut milk, serrano pepper  and honey. I love the hot and spicy with the sweet flavors. When you can taste both of those at the same time, it is perfection.
My husband and I cook together, I am the big idea gal and he perfects whatever I think of.
Curry chicken
• 1/4 cup coconut oil
• 1 onion, chopped
• 1 chopped roma tomato
• 1 garlic clove, chopped
• 2 tablespoons curry powder (Organic)
• ¼ cup red bell pepper and 2 slices serrano pepper for heat
• 1/4 teaspoon fresh thyme
• 2 skinless, boneless chicken breast halves, cut into 1 1/2-inch pieces
• 1 cup water
• 1/2 teaspoon salt, or to taste
• 1/2 Cashews
• Coconut milk
• 1 TB Honey
1. Heat vegetable oil in a skillet over medium-high heat; cook and stir onion, tomato, garlic, curry powder, Cashews, Red & Serrano pepper, and thyme until onion is golden, about 7 minutes. Stir in chicken and cook until chicken is lightly browned, about 5 minutes.
2. Pour water into the skillet, reduce heat to low; cover and simmer until chicken is no longer pink at the center, about 30 minutes. Last 10 minutes remove lid and stir to reduce then add milk and honey. Season with salt. Reduce till desired consistency
Serves 4
Serve over Rice